Latest News and Events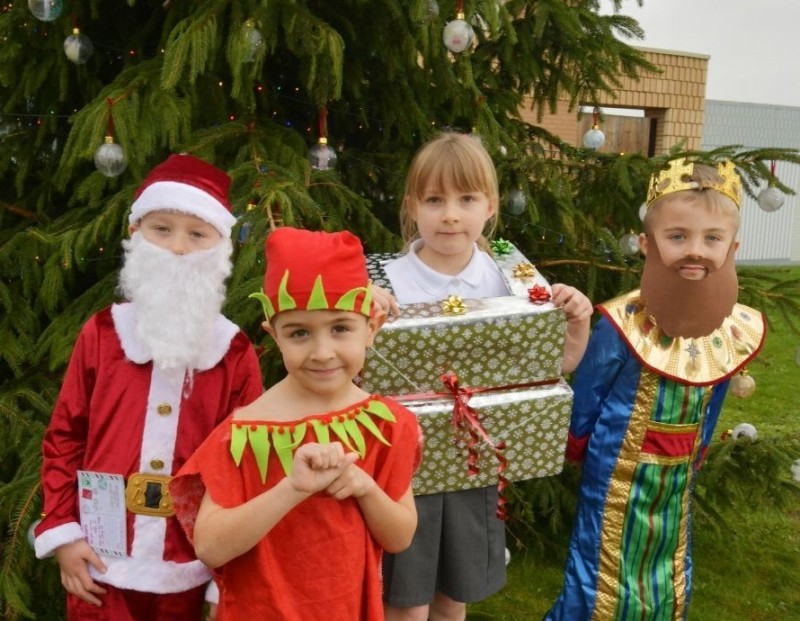 01 Dec 2020
Tis the season to be jolly at Sherford
Christmas has arrived in style at Sherford this year, with celebrations already in full flow. A 15ft Christmas tree arrived and has taken up residence outside Sherford Vale primary school, emblazoned in lights, much to the delight of pupils. And soon it will be decorated with their own handiwork, as part of a community-wide competition.

The Christmas tree is a gift to the town from the Sherford Consortium – a partnership between Taylor Wimpey and Vistry Partnerships, which includes Linden Homes and Bovis Homes. This is Sherford's fifth Christmas and its third since welcoming residents. Families at Sherford are also embracing the festivities with enthusiastically decorated homes, doorstep carols planned, and a visit from Santa's sleigh in the offing!

To help spread seasonal cheer, Vistry Partnerships – part of the Sherford Consortium, selling homes under their Linden Homes and Bovis Homes brands in the new town – have teamed up with Sherford Community Trust to hold the inaugural 'Sherford Christmas Bauble Competition'. Shared with families via the school and town's youth group, each child has a clear bauble to decorate and hang with a velvet ribbon on the town's Christmas tree.

By mid-December, the tree will be festooned with hundreds of baubles in a display of colourful creativity, community spirit, and Christmas cheer! Two competition winners will get stockings groaning at the seams with festive craft treats. A town known for its commitment to sustainability, families are encouraged to take their baubles home in time for Christmas, to hang on their own tree and reuse again in the future.

As the season of giving and of goodwill, the Sherford Consortium is committed to supporting a charity at Christmas. It continues the legacy of previous years, where support has been given Plymouth and Ivybridge foodbanks, Children's Hospice SW, and CLIC Sargent. This year, charity starts at home, and a £300 charitable donation will be gifted to a Sherford family fundraising for an incredible cause.

Brother and sister, Tyler Jones (age 6) and Eryn Jones (age 3), live at Sherford. Earlier this year they were diagnosed with a rare degenerative neurological disorder called Hereditary Spastic Paraplegia. Their parents, Kat and Simon, set up 'Team Jones' to raise awareness of this disorder and raise funds for equipment and essentials to help the children live their lives to the best of their ability.

Emma Colin, from the Sherford Consortium, said: "Christmas always feels a particularly special time of year at Sherford, as everyone comes together in celebration. We are delighted to have so much going on to mark the festivities, and it seems especially important to spread joy at the end of such a challenging year. With a Christmas tree in the heart of Sherford, a family competition to decorate it, and a charitable donation to a special Sherford family, our theme this Christmas is one of community spirit, unity and goodwill."
Charlotte Olver, from Sherford Community Trust, and Vistry Partnerships, said: "We wish everyone the merriest of Christmases and a very happy New Year. Our hope is that the community will come together over this time and enjoy the activity taking place in Sherford.?We look positively to 2021 and continuing to support the ever-growing community of Sherford; we have plenty planned next year to help and celebrate this thriving town, the families living there, and those set to make it their new home."