Latest News and Events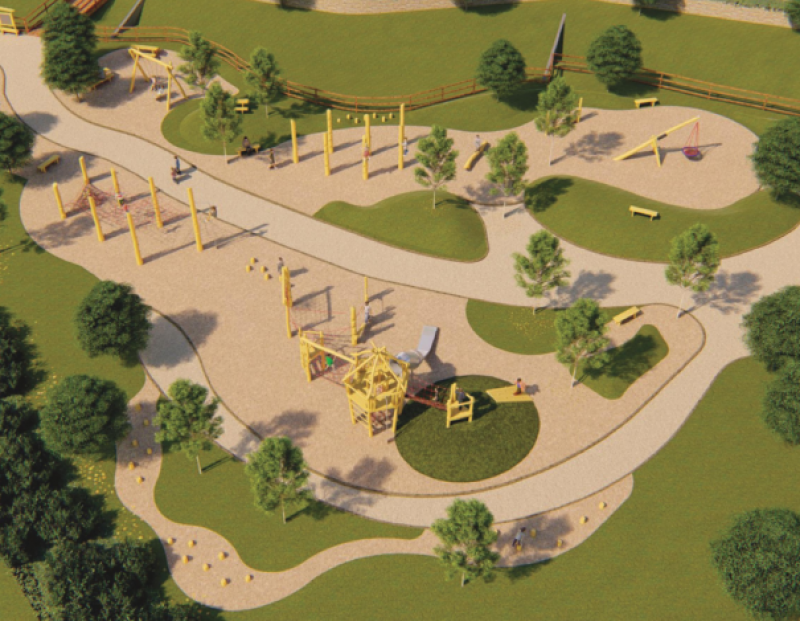 29 Oct 2019
Sherford's playground will be bigger, better and arrive sooner than planned!
Plans have been released and work is soon set to start on Sherford's first playground. The Sherford Consortium – the partnership of homebuilders Bovis Homes, Linden Homes and Taylor Wimpey – has 'upgraded' Sherford's first playground, going above and beyond the planning requirements to bring the exciting new play space to community, and delivering it far earlier than expected.
A small playground was due to be built in around a year's time – and was set to be a selection of equipment just aimed at younger children – but having listened to the needs of Sherford families, the Sherford Consortium decided to bring a more exciting and extensive play area forward in its plans, also suitable for a broader age range of children. This style of playground was not planned for Sherford for at least another five years.
Spanning 1,850 square metres, the play area will have everything from climbing nets and structures, to rotating balance beams, stepping posts and fireman poles. Classic playground staples like swings and slides will sit alongside a thrilling jungle swing and climbing whirl. A key element is a large piece of 'multi use' equipment, which will feature gangways, a slide, nets, climbing walls and balance beams.
Catering for children from 2-12 years old, the equipment is designed to provide different challenges and stimuli to keep children of various ages, interests and abilities engaged. It will be sourced from a specialist playground company using safe, high-quality materials. There will also be benches and picnic tables for families to use and socialise.
Natural materials will feature throughout the play area, including a living willow tunnel. It will be landscaped – much like the rest of Sherford – with grass areas, trees, shrubs and hedges, so that it feels part of the natural environment. Trees like English Oak, Silver Birch, Wild Cherry and Scots Pine will add to the scenery and provide shelter.
Work is due to start in November and, subject to progress on the construction, installation, landscaping – and with a festive break in between – it is due to open in Spring. Once complete, the area will be checked by specialist inspectors before opening to the public. Some landscaping will take place after, planting trees and shrubs at times best suited to help them thrive.
Melissa Langton, Sales and Marketing Director, Sherford Consortium, said: "We have given Sherford residents and community groups a preview of the plans for the playground and there is much excitement. The community of Sherford is growing by the day, and this facility is going to be a fantastic addition to the town, especially for the younger members of the community and families.
"We have worked hard to bring this high-quality and exciting play space to Sherford much earlier than planned. We could see the benefits an exciting outdoor space will bring and what it will mean to those living at or moving to Sherford. This playground promises to be full of interesting and interactive equipment across a generous area – it will be the perfect place to play, relax, socialise and have a huge amount of fun!"