Latest News and Events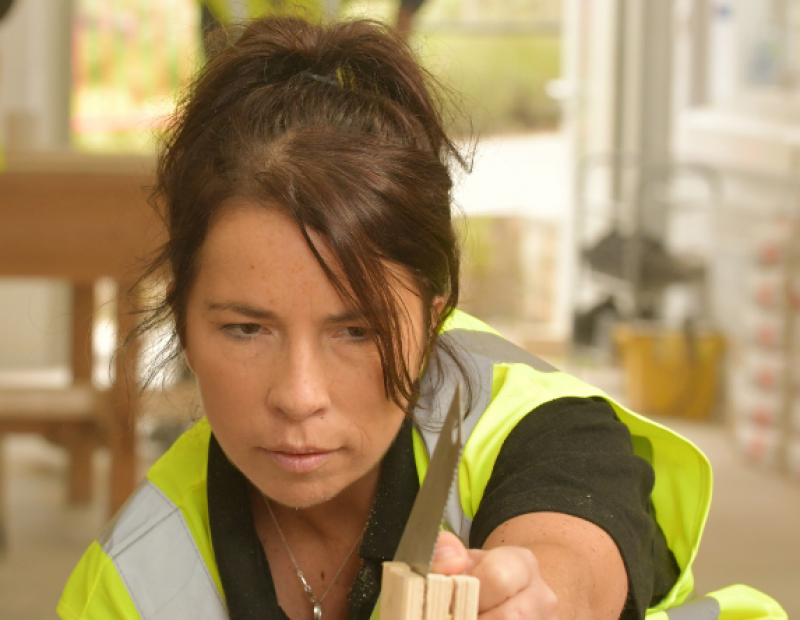 22 Oct 2020
Sherford Skills Training: Zoe
After 22 years of being posted to various locations across the UK, Zoe took the decision to retire from the Army and make a permanent home for her family in the South West. Unsure of the next step in her career, it was an unfulfilled ambition that led Zoe to the Building Heroes course at Sherford. Grabbing the opportunity with both hands, it wasn't just skills that Zoe gained from the experience but the chance to finally achieve her goal.
Running in partnership with national charity Building Heroes, Sherford Skills Training Centre, Vistry Partnerships and Train4All, the fully funded course helps service leaver and veterans find a fresh start in construction. The course offers the opportunity to gain highly sought-after skills and participants can achieve Level 1 Construction Skills and Health and Safety qualifications.
Zoe, said: "You don't realise that you've been in this protected bubble, it's so easy to feel lost. When I left the Army, I was in that difficult transition phase, with no idea of what I wanted to do next. Before I joined the Armed Forces, I tried to get an apprenticeship in construction, but there just wasn't an opportunity for me. Building Heroes has given me a second chance, my life has had a big turnaround.
"It's the best course I could have gone on. They didn't just teach us the hands-on skills we needed, in just a few weeks they changed how we all felt. It gave us a positive outlook on life, knowing that you can have a second career. It's there, you're ready, you just have to go out and get it."
Taking place over five weeks, the in-depth course helps participants to gain a variety of skill sets and create industry quality work across a range of construction trades. With guidance from the course tutors, practical assessments include everything from tiling and fitting radiators, to the construction of stud walls and basic plumbing.
"Our instructor Grant Johnson, from Train4All, and Steve Ricketts, from Sherford Skills Training Centre, were amazing. They made sure that we were confident with everything and that we were well supported throughout. The whole environment was so encouraging, and no one struggled because we all helped each other out. I feel confident with everything I've learnt, so much so, that I'm going to work on my own house. Start by completely redoing the bathroom, putting up a stud wall, really make it our home."
Proud to offer the first course in Plymouth, 60% of learners at Sherford Skills Training Centre are former members of the Armed Forces. Utilising all of the resources available, the Centre introduces course participants to industry leaders, including those who have contributed to the Sherford development. Encouraged by her tutors, it was during this part of the programme that Steve Hoskin Construction caught Zoe's attention.
"I got to meet them on the course, sent them my CV, went to a couple of interviews, and got the job offer I wanted - it was amazing. The course helped me find exactly what I wanted to do and gave me the introduction I needed. I enjoyed everything we learnt throughout the course, to be fair I loved every single day, but the health and safety side became the one thing that I really wanted to do. So, I'm really excited to be starting my career as a Health and Safety Advisor, I can't wait to be part of their team.
"There's definitely no chance of me feeling lost now, what with being busy in my new job and all the projects I'm going be doing at home. I can't wait!"