Latest News and Events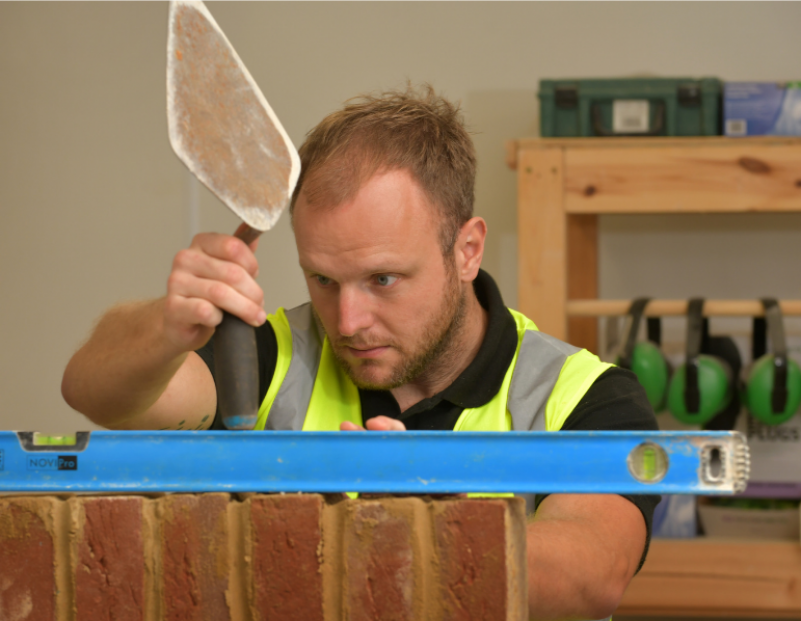 22 Oct 2020
Sherford Skills Training: Mark
Aimed at helping both current and ex armed forces members to learn valuable skills in the construction industry, the Building Heroes course at Sherford sparked the interest of DIY novice, Mark. Reaching a milestone of 11 years of service in the Marines, the Corporal hoped the course would at least teach him the skills he needed to work on his own property, yet what was actually provided exceeded all his expectations.
Building Heroes is delivering the course in partnership with Sherford Skills Training Centre, Vistry Partnerships and Train4All. The five-week programme offers a helping hand into a new career, with learners ultimately gaining Level 1 Construction Skills and Health and Safety qualifications under the guidance of specialist instructors.
With supportive tutoring, the course has provided Mark with hands-on training across all major construction trades. From plumbing and bricklaying, to carpentry and rendering, each detailed class has given Mark the opportunity to perfect practical skills and to produce industry quality work.
Mark, said: "I've surprised myself, I didn't think that I could do what I can now. Honestly, I didn't know anything when I arrived, now I'm shocked at the level of work we've done and the level of knowledge we've gained. We've dived into the syllabus and learnt far more than just the basics, I now feel like I could do anything.
"The course has gone above and beyond my expectations, from the environment and the tools, to the support of the Building Heroes charity and the instructors. In particular, Steve Ricketts from the Sherford Skills Training Centre and Grant Johnson of Train4All, can't do enough for us, the whole team deserves so much credit."
The course also provided Mark with the opportunity to meet various industry professionals, including the award-winning housebuilders responsible for Sherford's development. Shining a light on how participants could apply their new professional skillsets, the meetings also provided a chance to understand more about the industry and what career opportunities were available within the sector.
"I started out wanting to gain some skills so that I could do a bit of DIY and to think about whether construction was an option for me, but now, I'm fully determined to pursue a career as a construction manager. The people that I've met have really opened my eyes, I now feel that I can offer something outside of the service – something that I didn't feel confident about before.
"I honestly believe that the course has been so successful due to the collective support provided by Building Heroes, Train4All and Sherford. Their roles and how they have worked together to help us achieve the level that we are at has meant that the course isn't just about learning a bit of plastering. Instead, it's about being in the environment, meeting the people and learning the professional skills, so that you can see the opportunities that are open to you. I've not shut up about the course since I started, I'm already encouraging other people to take part!"