Latest News and Events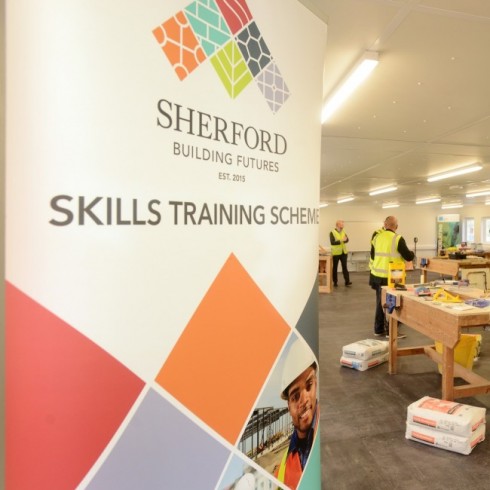 10 Dec 2015
Sherford launches Skills Training Scheme to boost local construction economy
Today marks the start of a long term, £250,000 commitment to improving manual skills, boosting the local construction industry and helping young people into employment, as the Sherford Consortium, Bovis Homes, Linden Homes and Taylor Wimpey, the network of homebuilders responsible for the development of the new community, announces the launch of the Sherford Skills Training Scheme.
After significant consultations with local authorities, key partners, training providers and additional stakeholders, the Sherford Skills Training Scheme, will provide training, experience and long-term employment opportunities during every phase of the major new Plymouth and South Hams community's construction, providing a lasting legacy for local people.
The lead delivery partner, following a competitive tender process, will be City College Plymouth. Both City College Plymouth and one of their partners, South Devon College, have exemplary track records in engaging young people, and will assist the Consortium in delivering the training programme and co-ordinating with local schools, agencies and the surrounding community.
Giving local people a significant role in building the region's biggest community development, the scheme will provide practical experience and qualifications in various areas of construction, including groundworks, roofing, carpentry, plastering, plumbing and bricklaying. Participants will also gain valuable experience in project management, health and safety, large scale development processes and onsite communication. By identifying gaps in the local trades and skills market, the scheme will engage:
Local schools and community groups: will be invited to visit the Sherford site, educating children on all aspects of construction, with insight provided by skilled project managers.
Young people/school leavers: will receive interactive information, guidance and advice via local schools and colleges, enabling those aged between 14-18 to understand the skills, training and employment opportunities available at Sherford and how to get involved.
Apprentices: by working with local colleges, work experience, Apprenticeships opportunities will be available at Sherford, with structured sector support also being made available with the provision of a Skills Training Scheme Co-ordinator.
Local unemployed people: working with Jobcentre Plus, those who are looking for work, or looking to retrain, will be able to gain construction experience at Sherford, equipping them with the necessary skills to progress professionally.
Wider participation in construction: in addition, the scheme will also be actively targeting women in construction, as well as the upskilling of local tradesmen.
Contributing £20,000 per year to the scheme,Paul Boileau, Sherford Project Manager, Sherford Consortiumsaid: "Sherford is a community being created for the local community by the local community. The scheme will provide real experience in every phase of the development, from initial groundworks to the completion of housebuild.
The scheme is just one example of how young people can become involved in large scale developments, benefitting not just individuals but also the surrounding community, making a lasting legacy. By providing people will the necessary skills and expertise to develop professionally; it has the potential to significantly support the region's economic growth and employment landscape."
Commenting on the need for the scheme, Peter Mercy, Director of Technology Marine & Renewables, City College Plymouth added: "The changing nature of the South West's construction industry means it has never been more important to help people gain practical experience to assist them