Latest News and Events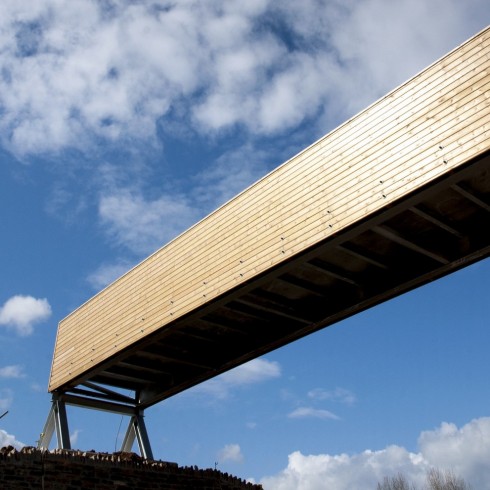 10 May 2016
Sherford bat bridge to the rescue
An impressive new bridge has been built this week in the new Devon community of Sherford – and it is for bats! The wooden 'bat bridge' is designed to help and protect the local bat population, of which there are at least 14 species in Sherford.
Lowered into place this week, the striking wooden bridge crosses the main road in the town – like a pedestrian footbridge would. Grass and plants will cover the top, mimicking the look of the local, surrounding landscape to create a 'wildlife corridor' across the road. It will screen out light from the road, helping bats to navigate safely.
The Sherford Consortium – the award-winning developers responsible for the new community, comprised of Bovis Homes, Linden Homes and Taylor Wimpey – is committed to enhancing and protecting the local wildlife, and this is the latest of many measures to ensure this.
Clare Brimble, Sales and Marketing Director, Sherford Consortium, said: "Sherford not only needs to accommodate residents but the local wildlife too. We will continue to invest in ecology initiatives, with a view to Sherford becoming one of the most 'green' and sustainable towns in the country."