Latest News and Events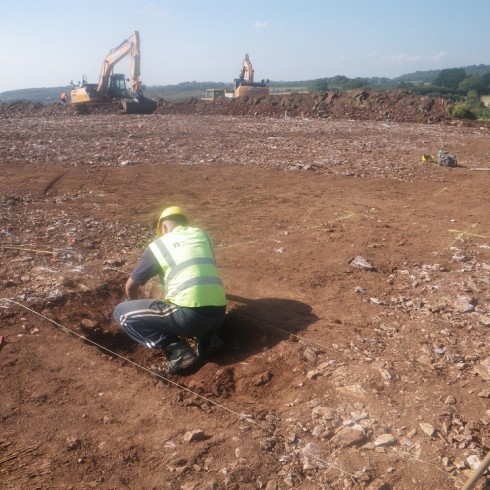 13 Sep 2016
Sherford archaeology open day to reveal newly discovered ancient artefacts
We're inviting the public to learn more about the history unearthed at Sherford at its latest Archaeology Open Day taking place on 24 September, from 10am – 4pm. An array of significant new discoveries will be on display.
The public will be able to find out more about the history of prehistoric Devon communities from a selection of professional archaeologists and local archaeology experts. They will also be able to see some of the ancient artefacts discovered at Sherford and dig for their own historic treasures by taking part in mini-sandpit excavations.
Led by Wessex Archaeology and AECOM, archaeological investigations have been taking place across Sherford since last year, with geophysical surveys revealing the landscape is rich in history spanning thousands of years. Notable recent findings includes flintwork dating back to 8500-4000 BC, indicating that hunters and gatherers thrived in the area long before the first communities arrived.
By analysing the artefacts discovered during the excavation works, archaeologists have been able to gather a wealth of evidence to increase their understanding of Sherford's distant past. These findings include, a rare decorated bone weaving comb, Roman pottery, coins, bones and roundhouses - which functioned as homes for large family groups within prehistoric farming communities.
The excavation also revealed two Early Bronze Age (2400 -1600 BC) burial mounds (also known as barrows), with one containing the cremated remains of an individual, likely of high importance, within a decorated pottery vessel. Located in a shallow valley, the two sites appear to have been sacred ground for over two thousand years, and visitors will be able to see the second barrow which is in the process of being excavated.
Plymouth Museum and Devon County Council Senior Historic Environment Officer, Stephen Reed, Plymouth City Museum and Wessex Archaeology will also be in attendance, providing insight on the excavation works, informative talks and 3D reconstructive imagery, to help bring Sherford's history to life.
Visitors wanting to attend the open day can simply attend on the day, with access to the site available via Vinery Lane. This is best approached from A38 (Plympton direction), with the postcode of PL9 8DD – but parking will be limited.
Andy Mayes, Principal Archaeologist, AECOM said: "Since the last open day, we have made some exciting and surprising discoveries spanning various historic periods, making the site one of the most fascinating large-scale, archaeological projects we have worked on to date.
"The prehistoric landscape of Devon is currently poorly understood, and our findings at Sherford have national significance, expanding our historic understanding of the local area. Our recent dig revealed exciting evidence of a Romano-British settlement, providing invaluable insight as to how much the Roman Empire influenced the South West.
"The current excavation works are part of a larger project, and we are excited to showcase our progress to the public, who we hope will have the opportunity to learn about the history of the region, as well as how archaeological works of this scale are conducted."
Bill Horner, County Archaeologist, Devon County Council adds: "Devon County Council has been ensuring that archaeological work takes place at Sherford since the planning proposal was first considered. Developments of this size are very rare in Devon and it gives us a unique opportunity to look at archaeology on a landscape scale. We want the local community to understand what archaeology is being found and to share and enjoy the discoveries."
Brian Deacon, Sales and Marketing Director, Sherford Consortium said: "Sherford is going to be a modern thriving community, situated in a location which has been used as a home for