Latest News and Events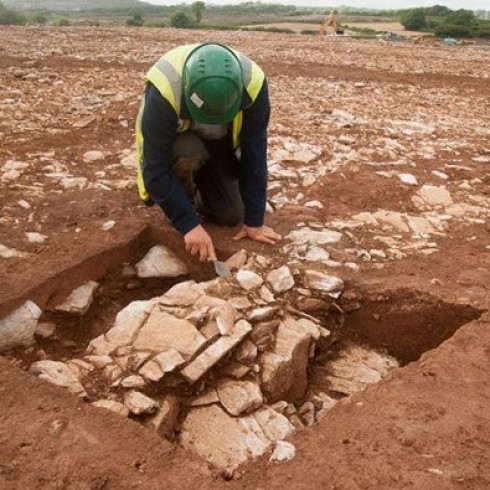 28 Sep 2015
Sherford archaeology open day set to reveal history of Devon communities
We're inviting the public to discover the rich history of Sherford, by attending our Archaeology Open Day on 3rd October from 10am – 4pm.
You will be able gain exclusive access to recent excavation findings as well as hearing from local experts on how communities have been living and working at Sherford for thousands of years.
Archaeological investigations have been taking place across the first phase of the site over the last year and a site wide geophysical survey has been completed. The full archaeological dig started at Sherford in early September, led by Wessex Archaeology, with recent findings including Iron Age roundhouses, pottery and bone, potentially dating as far back as between 700 BC – AD43 and possibly earlier.
A round house was typically a home for an extended family group, and part of a wider community of small farmsteads that appears to have existed across much of the Sherford site. The public will be able to view the exposed location of three of the roundhouses, as well as viewing finds and learning more about prehistoric farming communities.
Plymouth Museum and Devon County Council Archaeologist, Stephen Reed, will be taking to the site to discuss its Iron Age history and the Romano British period in Devon. Wessex Archaeology will also be providing expert insight on the excavation process and the geophysical survey results of the site will also be on show.
Leading the archaeology project, Andy Mayes, Principal Archaeologist, AECOM, said: "Devon is an area rich in archaeological remains of all periods, with Sherford providing us with a valuable opportunity to investigate a prehistoric landscape on a unusually large scale.
We have already made some exciting initial findings, with a site wide geophysical survey showing that some areas of the site are relatively rich in archaeological remains. With the Sherford development taking place across such a large area, the current excavation is just the first of a detailed programme of archaeological works to be undertaken in advance of development.
The method of investigation has been agreed with South Hams District Council, and as the project progresses over the next couple of years, we expect to gain a valuable insight into the lives of the people that lived and worked at Sherford in the later prehistoric and Romano British periods."
Sherford is set to be the location of a new modern community, built on land which has been used the same way historically. As Sherford is set to be one of the largest new communities in the UK, we also need to ensure that its history is preserved and protected as development progresses. By working with Plymouth Museum and Wessex Archaeology, it is fantastic that we can offer these findings to the public, who in turn can learn about the background of the region and the families which lived there.