Latest News and Events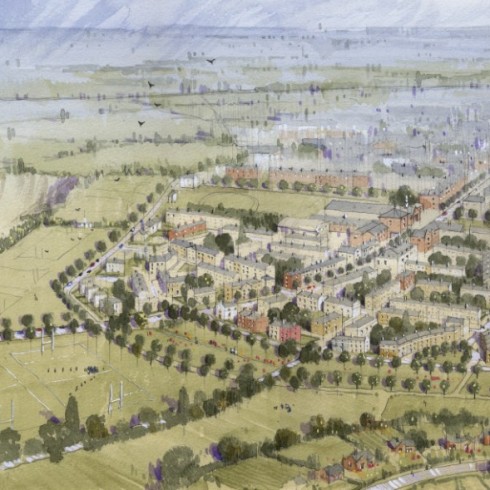 21 Aug 2015
One million environmental investment kick starts Sherford community build
A major investment has been made in the Sherford community even before the first brick has been laid, with more than £1m worth of planting and environmental improvements already taking place. The Sherford Consortium has embraced a host of measures to enhance and protect the landscape and wildlife.
The work forms part of the largest habitat creation scheme in the South West, and has seen 200,000 trees (22 hectares) already planted on site by local contractors. This is the first stage in creating a 500-acre community parkland, which will be accompanied by allotments, urban parks, communal gardens, as well as an extensive network of cycle and footpaths, designed by the award winning south west based landscape and urban design practice Lavigne Lonsdale.
"In many developments the houses comes first and the green space comes later, but not at Sherford," said Brian Deacon, Sales and Marketing Director, Sherford Consortium. "From the outset, the vision for Sherford has been a community integrated into the picturesque Devon countryside. We are committed to honouring this and the woodland and parkland is our foundation, taking shape well ahead of building work."
Plympton-based firm, YGS Landscapes, has been tasked with a significant part of the advance planting work and has been busy on site since early last year. The Sherford Consortium is committed to working with local firms in the development of the community, investing both directly and indirectly into the local economy.
Sherford Wildlife
A large part of the environmental focus has been the creation of 'wildlife corridors', around 40m wide in parts. So called, because they are a planned network of green spaces connected across the site, enabling wildlife to move and thrive. A mix of woodland, dense hedgerows and countryside, it is a dramatic change to the current farmland, designed to encourage wildlife to forage, settle and navigate.
Continuing its commitment to the environment, an onsite 'bat bridge' is soon to be under construction, expected to be completed by the autumn. This is designed to conserve the local bat population, of which there are at least 14 species. A novel structure, the bat bridge will extend across the main road in the town – like a pedestrian footbridge would. Mimicking the look of the wildlife corridors and with associated planting, it will screen out light from the road and help the bats to navigate more easily.
Leading the bat bridge design and ongoing monitoring is Dr James Riley, Associate Director for ecology at AECOM, who said: "Sherford is rich with local wildlife, including bats, badgers, breeding birds, small reptiles and other creatures. Our ethos is not only to protect but to enhance. By attracting and accommodating wildlife, we expect to see a net increase in wildlife over time."
Brian Deacon, Sales and Marketing Director, Sherford Consortium, Sherford Consortium said: "Sherford not only needs to accommodate residents but the local wildlife too. We will continue to invest in ecology initiatives, with a view to Sherford becoming one of the most 'green' and sustainable towns in the country."