Latest News and Events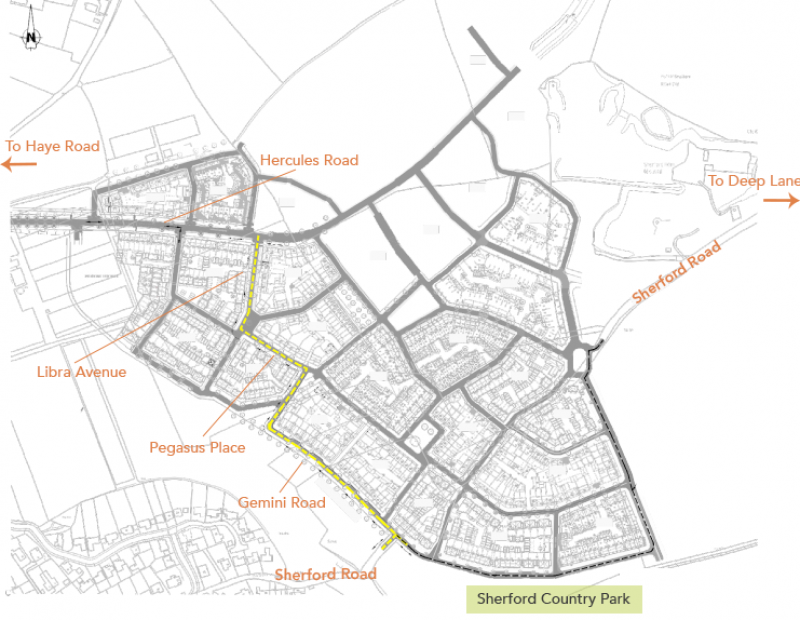 01 May 2019
New Sherford link road opens
The Sherford Consortium is pleased to announce that a new link road will open on Wednesday 1st May. The road runs from Sherford Road, through the new community and connects to Hercules Road. As the town continues to grow, it provides a greater choice of routes for those living and travelling through Sherford.
The Sherford Consortium has worked closely with the Local Authority Planning team to ensure this road is delivered in the best and safest way possible. The position of the road was altered, and additional time taken to ensure a safe route for residents through construction areas and enable the smooth flow of traffic from within and around the new community.
The safety of those living and working at Sherford is of paramount importance. Traffic Marshalls will be in place for the first two weeks to assist traffic and allow everyone the chance to adapt. Additionally, for the next six to eight weeks there will be a one-way system in operation to control the flow of traffic and allow residents to familiarise themselves with the new road layout. After this time, the new link road will be open to two-way traffic.
The temporary one-way system means that, for now, those living in Sherford will not be able to exit the town by vehicle onto Sherford Road, but they will be able to enter this way using the new link road. To reassure those living locally, it will not prevent anyone travelling from Elburton to continue along Sherford Road towards the Deep Lane junction.
Running alongside Sherford's new link road is a footpath that residents can use to walk from their homes up to Sherford's Country Park. Footpaths will be clear for pedestrian access and the route to the park will be signposted. It will be necessary to cross Sherford Road to reach the Country Park, so children should always be supervised, as they would on any other road in Sherford or elsewhere.
The new link road is part of a long-term local travel plan for the local area. In time Sherford Road will become a street within a residential area, integrated into the new community, used neither as a primary route to the A38 nor as a thoroughfare. Instead, Main Street will be the main arterial route through Sherford, connecting to the A38 Deep Lane junction. A major piece of infrastructure and huge milestone for Sherford, the Main Street extension work to construct the one-mile long road will start later this month.
A map showing the location of Sherford's new link road can be viewed here: