Latest News and Events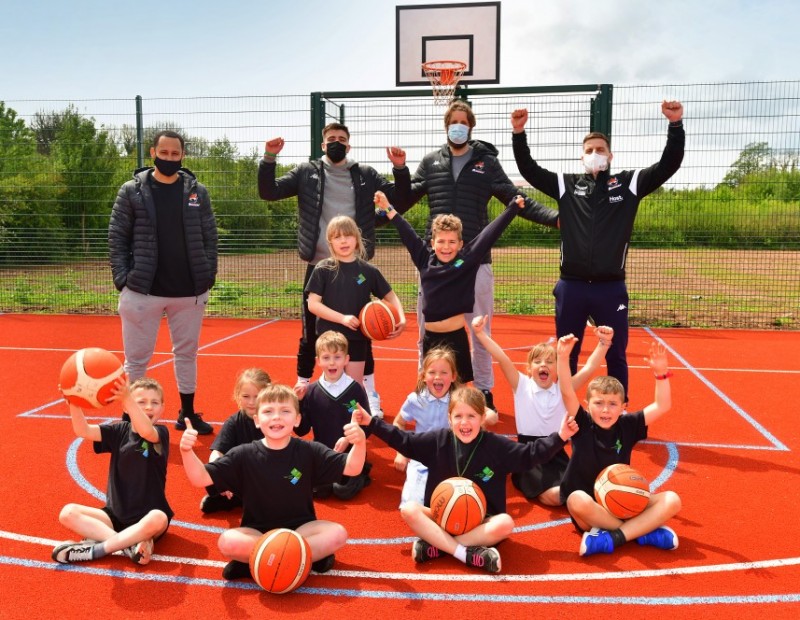 01 Jun 2021
It's a slam dunk at Sherford as special guests open new games area in style
Sherford's new multi-use games area (MUGA) has been opened by professional basketball team Plymouth Raiders, who took to the court to shoot hoops with local children. In a game of pros versus pupils, the team took on children from Sherford Vale, to celebrate the launch of the new community facility in style.
Members of the Plymouth Raiders British Basketball League squad – Andrew Lawrence, Elvisi Dusha, Will Neighbour and Liam Langridge-Barker – were joined by head coach Paul James, general manager Phil Hughes and club trainer Elliot Coackrell, to mentor the groups of school children and teach new skills, in an afternoon of fun. It was the first community activity that the Raiders squad has been able to engage in for over a year.
In groups of 10, three set of pupils from Sherford Vale's Otter, Badger and Deer classes – all aged between 6 and 11 – got stuck into the challenges set by the Raiders, picking up some pro tips, and having a huge amount of fun in the sunshine during a truly memorable training session.
The new MUGA is part of a massive array of new facilities at Sherford, which is fast becoming a must-visit destination. This is a secure outdoor space for sport, learning and play. Suitable for a variety of sports, from basketball and netball to football and hockey, residents and visitors of all ages can enjoy different sports within one accessible area.
The Sherford Consortium – a partnership between Taylor Wimpey and Vistry Partnerships, which includes Bovis Homes and Linden Homes – delivered the impressive new community facilities in May. The MUGA sits in the same area as a new playground, skatepark, and soon will be joined by tennis court and 3G pitches.
Jenna Waters, Head of Sales at Vistry Partnerships and part of the Sherford Consortium, said, "What a perfect way to launch Sherford's new games area; getting to shoot hoops with the pros will be a memory Sherford's children will treasure! It is great to hear that Plymouth Raiders were so impressed with our new facility; we know it will be a much-loved and well-used community space and we encourage others to visit and make use of it too."
Raiders general manager, Phil Hughes, said, "We are very grateful to be invited along to join with the children of Sherford Vale to open the new MUGA facility. The facilities on offer in the Sherford community are fantastic and its clear to see that every effort is being made to provide spaces where children can interact and engage in physical activity whilst in a safe environment. For us as a club, this event is the first for quite some time where our professional players have been able to interact with the local community so the welcome we received and the keenness to learn from the children of Sherford certainly added to the enjoyment of everyone involved."
Suzi Mills, a member of the teaching staff at Sherford Vale, added, "The coaches encouraged the children to really practise, perfect, and showcase their skills and the children loved taking part! It was a fantastic afternoon for all involved and we were thankful to be part of it."
Those visiting Sherford by car to experience the new facilities for themselves, there is a small car park by Sherford's Country Park – at the junction of Sherford Road and Gemini Road – which is a short walk away from the new playground, skatepark and MUGA. Visitors must not park in resident parking areas or on the pavements.