Latest News and Events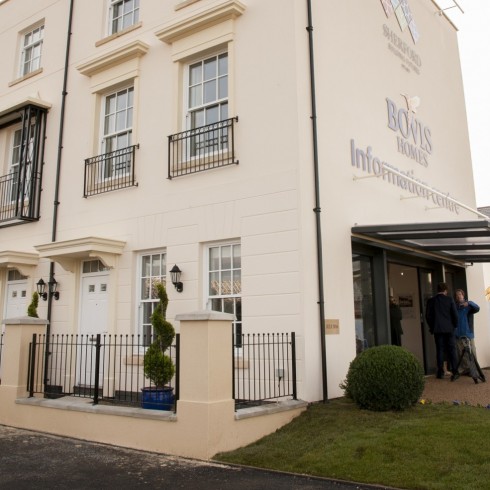 16 Nov 2016
First homes launch at Sherford
The first homes at Sherford are now complete, marking a monumental milestone in the development of this new Devon community. The Sherford Consortium – the partnership of award winning developers, Bovis Homes, Linden Homes and Taylor Wimpey – will unveil two newly completed houses and invite the public to experience life at Sherford for the very first time.
This is a landmark stage in the construction of Sherford, which will see approximately 600 homes built in the first phase, as well as a range of new amenities and commercial buildings. With homes now available to buy, Sherford could welcome its first resident as soon as January.
Designed with family living in mind, house-hunters will be able to tour a four-bedroom and six-bedroom property, both fully styled and furnished. The public can visit the newly opened show homes from Saturday 19th November. Sales teams will be on hand to provide information on the range of homes set to be available at Sherford, and assist with off-plan sales.
The Sherford Consortium has worked with some of the South West's finest architects, designers and craftsmen to ensure Sherford residents will benefit from high quality, stunning new homes. On its completion, a total of 5,500 homes will be available at Sherford, with 20% of these dedicated to affordable housing.
Wayne Bennett, Sales and Marketing Director, Sherford Consortium said: "Opening the doors of the first homes is a significant moment in the history of Sherford, having spent over two decades in planning. The result of much hard work and craftsmanship, the public will be able to see the true extent of the work which has taken place on site."
Cllr Michael Hicks, South Hams District Council's Portfolio Holder for Strategic Development said: "After more than 20 years in planning I cannot express how pleased I am to see Sherford finally open for sales. I know that there have been many concerns locally about Sherford over the years, but let us not forget that Sherford is about building local homes for local people, meeting the housing need for the future. It's about jobs and opportunities both during construction and once the town is fully open. Today let's celebrate the awakening of Sherford - a new town for both Plymouth and the South Hams."
Councillor Andrew Leadbetter, Devon County Council Cabinet Member for Economy and Growth, said: "Sherford is a key site for providing new jobs and new homes in Devon. The completion of the first homes on site is a positive step forward in the first phase of development and it is very encouraging to see this new community starting to take shape."
Councillor Patrick Nicholson, Deputy Leader and Cabinet Member for Strategic Transport, Housing and Planning: "Sherford has always been a very important site for us with the city's ambitions for growth. Not only will the site provide much needed homes locally, but it is also about providing the homes within a close commuter distance to Plymouth and the vital infrastructure for Plymstock and Elburton that the area desperately needs. It also contributes to delivering our Plan for Homes for Plymouth."
Classic architectural styles will give Sherford the look and feel of a tasteful, traditional British town, supported by contemporary designs and mod-cons. From apartments and town houses to mews and detached properties, two to six bedrooms in size, there will be homes to suit a range of needs and budgets.
Wayne Bennett, Sales & Marketing Director, Bovis Homes, Sherford Consortium adds: "Every detail has been carefully considered and each developer will have a range of finishes and fittings available to enable buyers to have a hand in building their own Sherford home. "