Latest News and Events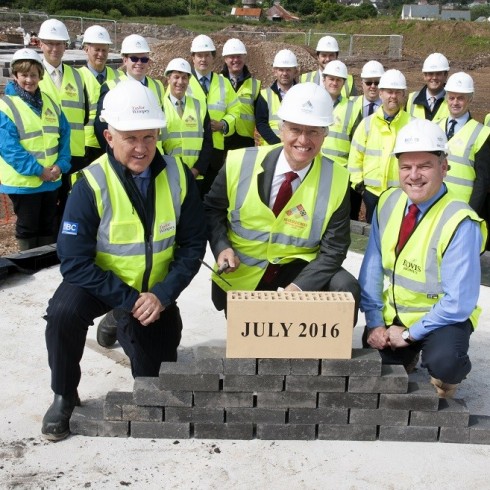 13 Jul 2016
First brick marks official start of home build at Sherford
Sherford, the new community being created in the heart of the South Hams, has reached a monumental milestone in its construction, with building work now officially starting on the first homes. The Sherford Consortium – the partnership of award-winning homebuilders Bovis Homes, Linden Homes and Taylor Wimpey – were joined onsite by key local authority members to mark the occasion.
With 5,500 homes planned for Sherford, the first are due to be completed early next year. An engraved brick featuring the start date of the home build – July 2016 – was placed by those responsible for the new community, and is set to remain in pride of place and stay visible for the lifetime of the town.
Sherford spans two major South West council areas, and South Hams District Council leader John Tucker and Councillor Michael Hicks joined Plymouth City Councillor Patrick Nicholson and Devon County Councillor Andrew Leadbetter, to mark the occasion. They were accompanied by Steve Jackson, Area Manager for the Homes and Communities Agency, the Government's national housing and regeneration agency, which has invested over £32million in Sherford.
Ian Pugsley Project Director, Taylor Wimpey & Sherford Consortium said: "This is a monumental step in the journey of Sherford and a testament to a lot of hard work and planning by many over the last two decades, some of whom have since retired from the project in the interim. Once built, Sherford will be home to over 12,500 people, and we are proud to show that work is progressing quickly, to enable the first homes to be ready as early as next year."
Cllr Michael Hicks, South Hams District Council's Executive Portfolio Holder for Strategy and Commissioning, said: "The first brick being laid at Sherford is a momentous occasion, we have reached a stage where much needed homes are now being built. Sherford is a landmark development for the South Hams and Plymouth, and is not only creating homes for people but it is providing new jobs for those in the area, as well as opening new opportunities and facilities for local businesses, future residents and the surrounding communities. We look forward to seeing how the community progresses even further in the near future."
Councillor Patrick Nicholson, Deputy Leader of Plymouth City Council and Cabinet Member for Strategic Housing, Transport and Planning adds: "Sherford will be a welcome addition to Plymouth. It will attract more people to one of the most beautiful and prosperous regions in the country, as well as injecting a further £2billion into the local economy. The development is unique, both in terms of scale and its features, and with houses now being build, this is an exciting new stage."
Councillor Andrew Leadbetter, Devon County Council Cabinet Member for Economy and Growth, said: "Collaborative working with the Sherford Consortium and our partner authorities is key in delivering the infrastructure and homes for the new community of Sherford. It's an important investment in supporting long term growth in the county's economy."