Latest News and Events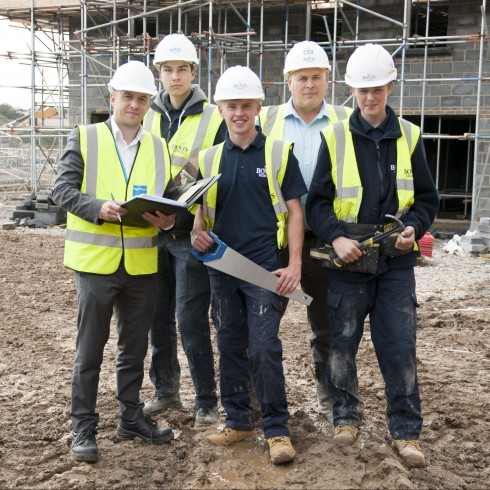 13 Oct 2016
First apprentices start work at Sherford
The first apprentices are now on site at Sherford, securing their roles after successfully applying to be part of the Sherford Skills Training Scheme.
With roles in bricklaying and carpentry, the apprentices are set to be instrumental in the construction of our first homes, as well as gaining practical training and experience at the new development.
Coolaboy Stanley (17), Tom Finnerty (16) and Lewis Mayes (16), all from Plymouth, were selected by lead delivery partner, City College Plymouth. Their professional apprenticeships combine classroom learning with practical experience on an active construction site; and will eventually result in formal qualifications.

As part of the Skills Training Scheme, the apprentices will also have the opportunity to gain valuable experience across project management, health and safety as well as understanding how a large-scale development operates, in addition to their chosen trades.
City College Plymouth also recently welcomed Steven Ricketts as the new Sherford Skills Training Scheme Coordinator. Already active in the local community, Steven has previously held a number of key employment coordinator positions, as well as well as acting as the Plymouth Councillor of Drake Ward.
The new community, currently under development, is being led by the Sherford Consortium, a network of national homebuilders, Bovis Homes, Linden Homes and Taylor Wimpey. The first apprentices arriving on site marks a significant milestone for the Consortium, which is committed to improving manual skills, boosting the local construction industry and helping young people into employment.
The scheme is the result of significant consultations with local authorities, key partners, training providers and additional stakeholders, and has been designed to provide training, experience and long-term employment opportunities throughout every phase of the major new Plymouth and South Hams community's construction.
Lewis Mayes, Sherford Carpentry Apprentice, said: "It is going to be great seeing Sherford grow over the new few years, and once its finished I will be able to say that I played a part in its construction."
Coolaboy Stanley, Sherford Bricklaying Apprentice, said: "I chose bricklaying as it is a trade which has a number of career options. Sherford is already known for involving a number of good local firms and workers, and I can't wait to be part of its development – which is huge!"
Steven Ricketts, Sherford Skills Training Scheme Coordinator adds: "It is a great time to be joining the Sherford Skills Training Scheme, and seeing the work already achieved. I am passionate about helping local people into work, as well as ensuring they are equipped with the skills, education and training, needed to develop professionally. Both City College Plymouth and their partner,
South Devon College, have exemplary track records in engaging young people, and this is an excellent time to start thinking about a career in the construction industry."
"The Scheme is designed to not only help individuals, but will also support the development of the local economy, as well boosting the employment landscape, ensuring people have access to not only experience, but long term job opportunities. I am excited to play a leading role in making this happen."
Wayne Bennett, Sales and Marketing Director, Bovis Homes said: "This is a fantastic milestone both in terms of Sherford's construction and the progress of the Skills Training Scheme. Sherford is always going to be a community, built by the local community, and the apprentices will have a lasting legacy when it's completed.
"By providing people with the necessary skills and expertise to develop professionally, as well as showing them how a construction site of this scale operates on a daily basis, the app