Latest News and Events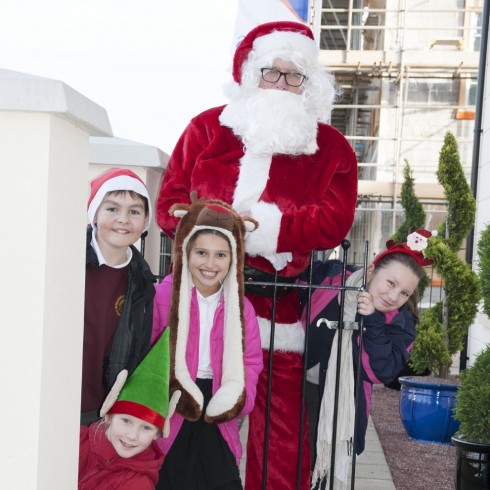 12 Dec 2016
Christmas comes to Sherford as school carol singers spread festive cheer
School children helped to 'deck the halls' of the first Sherford show homes this week, visiting the landmark new community to perform a special selection of Christmas carols – including a very apt song about building a new community!
More than 50 children, parents and staff from neighbouring schools, Woodlands Park Primary, Stowford Primary and Yealmpton Primary, were invited by the Sherford Consortium for a festive celebration at the new town for the first time since it opened to the public.
The carol singers called at Sherford's first homes, to find a special guest to sing to! Performing in front of Santa Claus, members of the Sherford Consortium, parents and school staff, the children entertained their audience with a selection of festive songs.
In the spirit of the season, Sherford's show homes were decorated, and guests gathered around a Christmas tree as Santa gave the children presents for added festive cheer. The Sherford Consortium also made a charitable donation to the schools.
Wayne Bennett, Sherford Consortium said: "This is the first Christmas has been 'open' to the public and what better way to mark the occasion than with carol singers from the neighbouring area. Seeing the children on site is a testament to how far the community has come in just the past year – and we look forward to celebrating the next Sherford milestone in 2017.
"It is fantastic to see local children getting involved and taking an interest in the Sherford. As it continues to grow, there will be new facilities, including playing fields and green spaces for everyone to use and enjoy, making it an asset to the region and local families."
Helen Tipping, on behalf of the Ivybridge Academy Trust said: "The children were very excited to visit Sherford, and have been practising their carols for the past couple of weeks – even choosing a song about constructing new places. It has also been a good opportunity to educate them about the town, as well as to come together as a community to celebrate Christmas."