Latest News and Events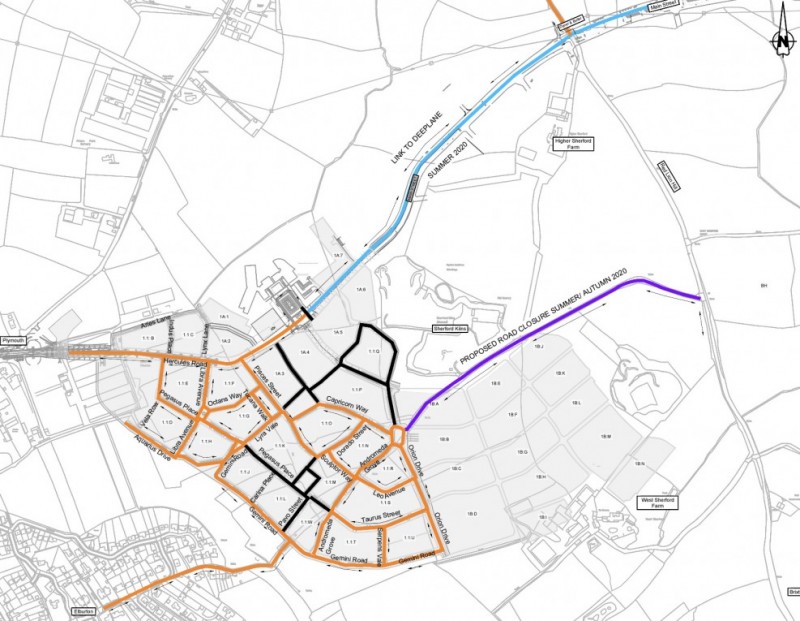 24 Feb 2020
An update on Sherford's roads and routes
Work on Sherford's Main Street continues to progress well and is on schedule to be finished this summer. This will be a one mile long arterial link road, running through Sherford to the Deep Lane junction. A key milestone in Sherford's development, it is also a significant piece of transport infrastructure for the area.
The Sherford Consortium, Devon County Council and Department of Transport are delivering this major road in the early stages of Sherford's development to take pressure off existing rural roads and provide better options for local travel. Running through Sherford, Main Street will provide an excellent alternative for residents and local traffic currently using local lanes to get to the A38.
Road closures
In the areas surrounding Sherford, there are planned improvement works and road closures taking place scheduled by Devon County Council, as part of the creation of Main Street. Some repair works are also being incorporated into the road closures to minimise disruption. Find out more about the work taking place and traffic management here and on an interactive map here. Any queries about the work on Main Street should be directed to sherfordmainstreet@jacobs.com
Once Main Street opens, some road closures and alterations will be subsequently made at Sherford, as Main Street replaces access to Deep Lane. The section of Sherford Road - the part that connects it from Orion Drive to Stamps Hill/Red Lion Hill - will be closed, and traffic will not be able to pass through. The remainder of Sherford Road will remain open.
New routes
As has always been the plan and widely communicated, Sherford Road – at the point it leaves Elburton and moves into Sherford – will become a street within a residential area and fully integrated into the new town. New homes are under construction in this area and it is fast becoming part of the thriving Sherford community; it will no longer be a route through to the A38 nor a thoroughfare, as Main Street will offer a far easier and quicker journey.
Those travelling to the A38 from Sherford will be able to use the new route from Hercules Road, onto Main Street, to Deep Lane. Those travelling from Elburton and Plymstock will be able to access the same route via Stanborough Cross and Haye Road. Those travelling from Brixton will have the option of using the new route, or travel via Red Lion Hill.
Additional good news for residents at Sherford; the one-way systems that have been in operation on some residential streets – as a safety measure while construction vehicles operated in the area – will now open to two-way traffic. The Sherford Consortium is committed to providing safe routes through and around the site during its development and roads will be monitored and alterations communicated. Some Sherford streets will be closed on a localised basis when needed.
Changes coming
More information about Main Street will be made available as its completion nears. Most of the road will be adopted by Devon County Council, while the section that is currently built (Hercules Road) and open to the public is under Plymouth City Council. Parking and speed restrictions will apply when the roads are adopted by the Local Authorities. The speed will be set at 30mph on Main Street, as it is a road running through the Sherford community.
We have created a map that shows the planned road closures and traffic routes in and around Sherford. The colour-coded street map clearly identifies where Main Street is, as well as showing the planned road closure, proposed traffic routes within the Sherford community, and highlighting several roads within the development that are required as construction routes. If you have any queries regarding this map, please contact info@sherford.org for more information.