Latest News and Events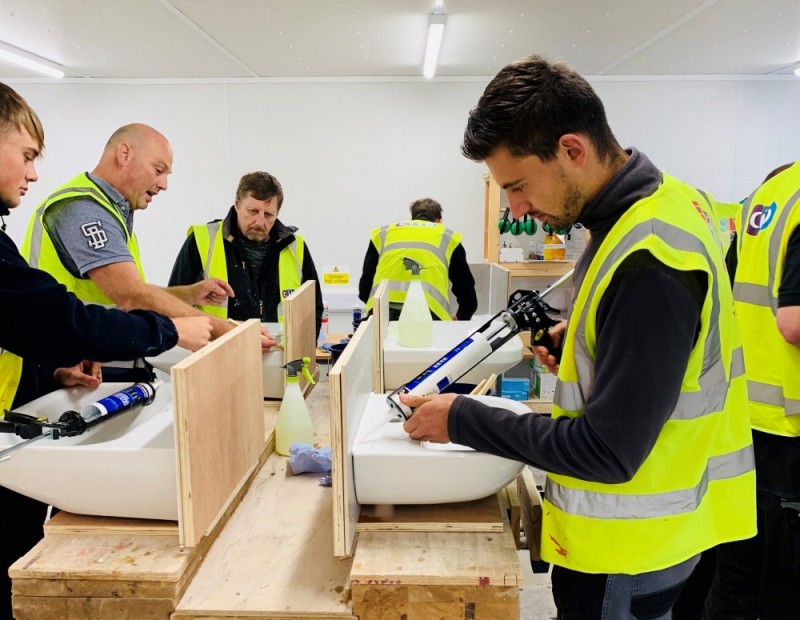 22 Jan 2020
A LASTING LEGACY FOR LOCAL PEOPLE
SHERFORD SKILLS TRAINING CENTRE BOOSTS REGION'S CONSTRUCTION INDUSTRY, CREATING OVER 280 JOBS AND SUPPORTING OVER 100 APPRENTICES.
Sherford, the new community currently under development in the South Hams, is supporting the growth of the local economy and employment landscape, with the town's construction helping to create over 280 jobs. Opening its doors in 2018, Sherford's Skills Training Centre has also supported the training and development of over 100 apprentices, as well as offering its users the opportunity to retrain and upskill across trades.
As one of the largest new developments in the South West, Sherford's creation is continuing to boost the local construction employment landscape, with hundreds of workers using their skills to help build the town's homes, roads and supporting infrastructure.
Helping to boost manual skills by providing training and practical experience across trades, which includes bricklaying, carpentry and plumbing, and located at the heart of the new development, the one-of-a-kind Skills Training facility was created to reduce the region's skills shortage. Supported by onsite teams and teaching staff, the centre engages a variety of users, from apprentices and veterans, to those looking to upskill or retrain.
The next generation of construction workers also have an opportunity to learn and train at Sherford, with 40 apprentices currently employed at the development; with over 75% of these aged between 16-24. Sherford apprentices are supported onsite by the Skills Training Centre's expert teaching staff, which includes those from a variety of training providers, such as industry training board, CITB.
Sherford Skills Training Centre staff are also helping to inspire young people about construction career options and have engaged with over 1000 pupils at schools across Plymouth and beyond. From speaking at local school assemblies and holding drop-in sessions, to creating a work experience programme across trades for children aged 14 and over, the centre is helping to create the builders of the future.
Marking a major commitment to reducing and addressing the region's skills challenge, the £370,000 centre is funded by the Sherford Consortium, with key delivery partners including City College Plymouth, South Devon College and CITB.
Steven Ricketts, Sherford Skills Training Co-Ordinator, said: "Sherford is helping to support and grow the South West's construction industry by offering local people the opportunity to learn and work at one of the region's largest active construction sites. The Skills Training Centre offers people from all backgrounds, from apprentices and contractors, to veterans, the resources and training needed to retrain, refresh or upskill.
"Working with industry training board, CITB, the centre works to address the skills most needed in demand across the industry, and as well as achieving recognised qualifications, users acquire the expertise and experience needed to progress professionally. We are proud of the results the centre has already achieved, and hope to inspire more young people to consider a career in construction."
Emma Colin, Sherford Consortium said: "Sherford is a new community being constructed by local people and local businesses, and skilled workers are essential in helping to deliver the high-quality homes and infrastructure required. As one of the most innovative new developments, it is fantastic to be able to provide local people with expert onsite training to help them progress professionally, while bolstering the region's construction industry and economy."
Cllr Dan Brown, South Hams District Council's Lead Member for Sherford, said: "I'm thrilled with the Skills Training Centre's success. It's a win-win for everyone; the students, both young and old, who get qualifications and learn new skills, but also for the community who will benefit from more skilled trade workers locally.
"Not only is the Centre providing a practical career path for lots of people, but they are also inspiring school children to think about their own future professions. The Centre is such a boost to the area and they should be congratulated for their wonderful work."