Latest News and Events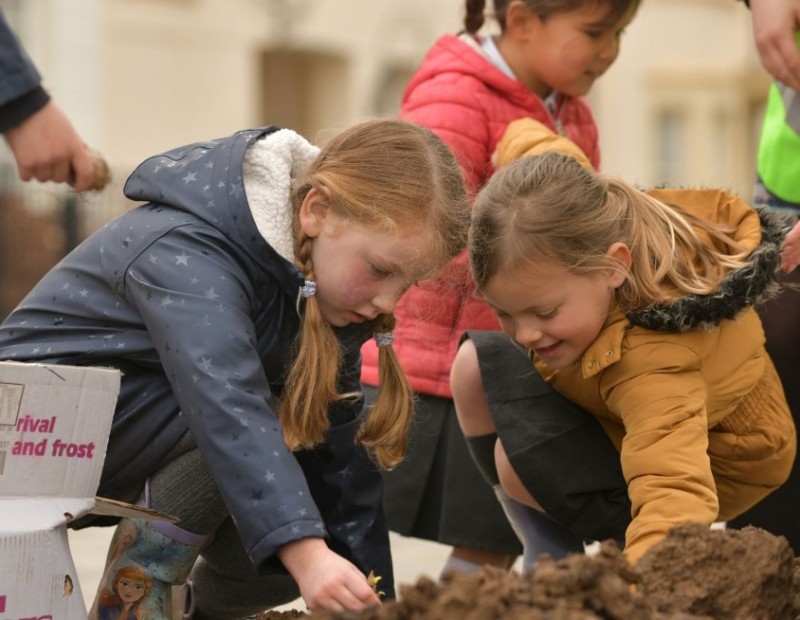 11 Mar 2021
A blooming marvellous way to celebrate Mayflower 400 at Sherford
Pupils from Sherford Vale School are keeping the Mayflower celebrations in full flow, planting 150 special 'Mayflower 400' daffodil bulbs within the heart of the community. They were planted around the base of the town's 9-metre tall Tulip tree, the Massachusetts-native species that arrived last year to honour the historic connection between Plymouth and its American namesake.
Some of the school's youngest pupils were entrusted with the task under the expert guidance of Sherford's landscaping team, Plympton-based YGS Landscapes, who donated the bulbs to the community. Trowels at the ready and with plenty of enthusiasm, the 21 children from Sherford's first primary school got stuck in!
Developed especially for the Mayflower 400 celebrations, the unique daffodils will bloom each Spring with a distinctive yellow and orange flower. These are the exact colours of the distinctive tulip-shaped flowers of the Tulip tree they surround, which will follow on from the daffodils and bloom in the Summer.
A classic symbol of the arrival of Spring, it was also intended that the new floral addition to the town would bring cheer to the community and hope of brighter times to come. And with the daffodils set to bloom every Spring, residents and visitors to Sherford will be able to enjoy the sight for many years to come – including the children who planted them.
Jenna Waters from Vistry Partnerships and the Sherford Consortium, said, "Many of the pupils who planted the daffodil bulbs in Sherford are from key worker families, and we were pleased to give them a fun experience and help them create their own little legacy for Sherford. We are so grateful for all that these families have done and continue to do. This is a place with incredible community spirit and it is a privilege to see that grow and bloom."
Susie Evans from Sherford Vale School, said, "Pupils in Years 1 and 2 were so excited to be able to go into the local community for an activity; something they haven't been able to do for months! They loved planting the daffodil bulbs, with some stating they could keep an eye on them from their own homes, whilst they grow. It was such a lovely way to spread some happiness, for the children and the community, and know this will continue when they eventually flower."
Steve Warren- Brown, MD of YGS Landscapes, added, "As soon as I discovered that there was actually a bulb developed to commemorate Mayflower 400, I knew where we could put them – this is the perfect location. I am delighted that we have been able to bring a little bit of joy to all during these difficult times, especially to Sherford's children and key worker families. We hope everyone will take pleasure from these beautiful bulbs for years to come."