Case Studies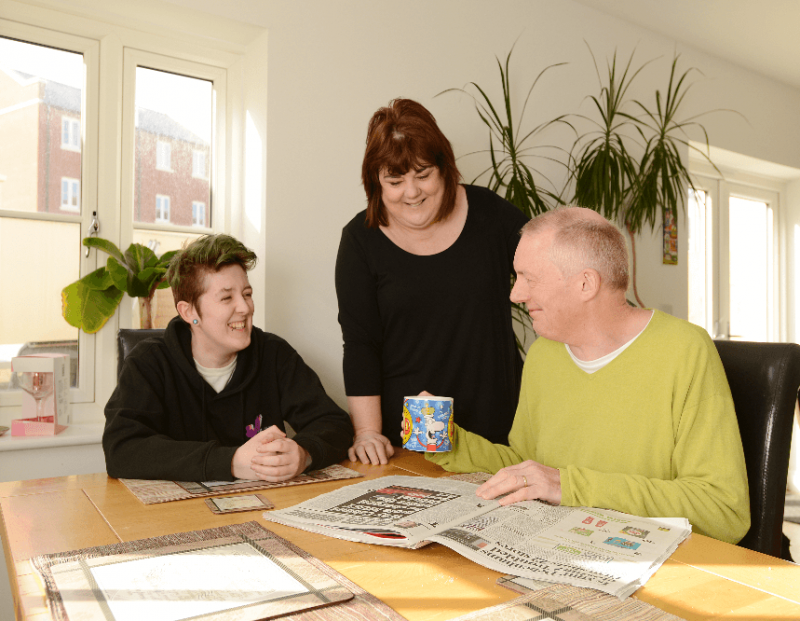 15 Apr 2019
Ric and Catherine Ward
Ric, Catherine, their two sons and dog made the move to Sherford, having lived in the neighbouring village of Elburton and having previously grumbled about Sherford's arrival! But the calibre of the homes and the quality of life they felt the new community could offer them, was too much of a draw to resist!
Initially the family came for a look around Sherford, as the town took shape in early 2018. "I didn't know that moving was really on the cards until we were in one of the sales offices and Catherine was asking questions about the houses!" says Ric.
Their former home had been a 1900s property and the family felt constrained by the lack of space and dark rooms. In contrast, their new town house, with its tall ceilings and airy rooms may as well be a million miles from their old house, rather than a less than a mile away.
"We love it – this house has completely changed our quality of life," says Catherine. "It gives us a really family friendly style of living, where we all have plenty of room. It is an enjoyable space too and we are all so much happier. Even friends and family have commented on how much more relaxed we seem."
With big rooms, flooded with light, the Ward family have carved out areas that they happily share, as well as having their own space too. This is especially important for their sons, one of which is training to be an actor. And Ric and Catherine have converted one bedroom into a home office, complete with his and hers desks so they can occasionally work side by side!
The Ward family's impressive new home has a roof terrace garden, which has incredible views over Sherford. "We like to take a bottle of wine up there, light our chimenea, sit and talk. The kids even come up and join us for a chat, which we love."
From up on their terrace, Ric and Catherine can see over parts of the new town and are keen to explore, especially for dog walks around the Country Park. Based along Sherford's main street, they are also excited about the possibility of wandering to the shops and leisure centre, both of which will only be a few minutes away on foot.
While they don't know many neighbours yet, they see that there is a real sense of community spirit at Sherford, where families are welcomed, and people look out for one another. Catherine adds, "This is a new town and a new start for everyone. We are determined to make the best and the most out of it."